Flying HighAfter Study Abroad
Gripped by terror, sweating profusely and on the edge of hyperventilating, Marquan Hamilton thought he might be headed to what he calls his "final destination."
In fact, the political science student was simply boarding a plane from Charlotte to Miami, en route to study abroad in Cuba over the summer.
"I had never had an opportunity to be on a plane before," he says. "I had never been farther than North and South Carolina. I was so nervous. But I knew I wanted to see more of the world. I wanted to step out of my comfort zone and learn about a culture outside of mine.
"So I got on board and I found an inner strength. I thought about my family, and how proud they were of me. I thought about my niece and nephew, who look up to me, and my mom, who had dreams of studying abroad herself, and was doing it vicariously through me. And then the couple sitting next to me, who happened to work for the [University of North Carolina] system, were really nice. They calmed me down."
By the time the plane landed in Miami, Hamilton had recovered his composure. He was ready for Cuba. "I felt like I could do anything from that point on," he says.
And by the time he returned home to Shelby, North Carolina, from NC State's "Cuba: History, Environment and Culture" study abroad program, Hamilton was not only a travel pro and an ardent ambassador for Cuba, he was also bursting at the chance to encourage other minority students to study abroad. Hamilton, an African-American first-generation college student, received multiple scholarships that made his eye-opening experience overseas possible and offer a testament to the power of philanthropy.
Asked if he feels like a different person, Hamilton pauses to reflect. "No," he decides. "I'm the same person. But I've gained more knowledge. I'm more competent about the world. I have new perspectives on life, and I see new opportunities. I feel much stronger in my abilities. I'm no longer going to doubt myself. The sky's the limit."
First Generation Student, First Generation Study Abroad
The rising junior is the first in his family to attend college. When he received his acceptance letter from NC State, he cried. He had done his research, and NC State was just where he wanted to be by his own measures:
Educational opportunities: NC State had the programs he was looking for. Hamilton is majoring in political science, with a concentration in law and justice, and a minor in sociology. He's considering adding another minor, either in interdisciplinary studies or business administration.
Location: Hamilton liked the feel of the university and the city, especially the campus' close proximity to all the workings of government that fascinate him. He's interned with a state senator at the North Carolina General Assembly.
Cost: It was relatively affordable, which Hamilton said was critical for someone like himself who's coming from a rural, low-income area.
But it was that third area that gave him great pause: how was he actually going to afford college? "My mom looked at me, and said, 'You're going. I'm going to make sure your education is paid for,'" he recalls.
Hamilton received a Pack Promise scholarship and several external scholarships that made attending NC State possible as a first generation student. In order to study abroad, though, he still needed help. He earned the college's Travel Scholars award, as well as the college's first Getting Started with Study Abroad award, funded by donors and designated to help high-need, first generation students cover the costs of passport and program deposits. He also earned the Goodwin Meissner Foundation Scholarship and the NC State Chancellor's Scholarship — both highly competitive awards — that helped offset other costs associated with study abroad.
"I have felt that NC State is investing in me," Hamilton says. "The university wants to see me succeed. That really speaks to me. I feel so blessed and so honored." Hamilton plans to attend law school after he graduates, and is interested in corporate or human rights law.
I'm no longer going to doubt myself. The sky's the limit.
Cuba: An Incubator for Critical Thinking
As he determined where to study abroad, Hamilton again did his research. Cuba met his criteria: it offered an immersive experience where he could improve his Spanish; it presented a country with a complex political system and an interesting history; and it was definitely a culture far different from his own.
"My mom was pretty worried when I told her I was choosing Cuba," he laughs. "She said, 'Cuba?! How about Italy?' But I'm strong willed. I knew what I wanted."
NC State Teaching Associate Professor of History Nicholas Robins has been bringing students to Cuba since 1995. He says this year's cohort was an exceptionally good one, and that Hamilton was a standout student among them.
"Knowing it was his first trip abroad, and knowing just how challenging Cuba can be to navigate, I naturally had some concerns at the outset," Robins says. "But from the moment he arrived, Marquan was completely engaged. He embraced the entire experience: his Spanish improved, he made friends, he soaked it all up."
The Cuba: History, Environment and Culture program is designed in large part to help students develop critical consciousness. Robins says there's no better place than Cuba to do so. He encourages students to doubt and question what they hear, to weigh what they're told in their classes and what they read against what they learn through empirical experience. "They have to develop critical skills, to doubt, criticize, and try to figure things out on their own. In so doing, they form their own opinions and develop their critical abilities."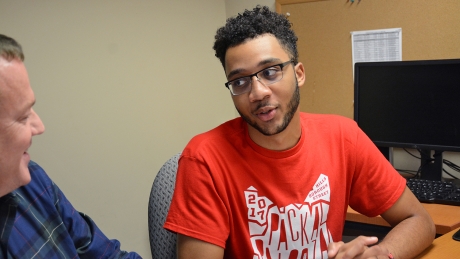 Hamilton says he learned "to be very analytical about everything."
"I started seeing things from diverse perspectives," he says. "For example, mixed in with their pride, there is a lot of fear among the Cuban people. Some thought we might be spies for the government. That would never have crossed my mind."
Robins says if students develop critical thinking skills in Cuba, they'll never stop using them. "I think in Marquan's case, he displayed a remarkable ability to adapt and engage. He also developed significantly in his intellectual abilities."
(The original version of this story appeared in the College of Humanities and Social Sciences Fall 2017 Accolades magazine.)
CATEGORIES: The NC State Experience